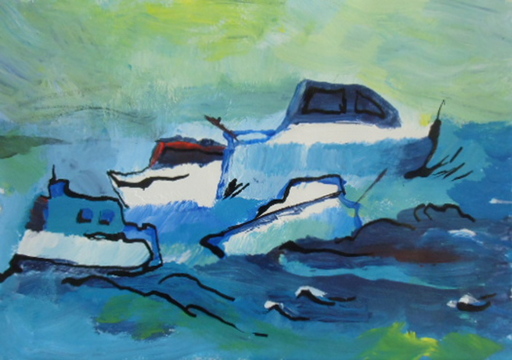 Painting course
Paint your Way
On Saturday mornings you can join my painting lessons. Our main aim is to find your own way in painting. It's about creativity and fun.
Mostly you will be painting or you will be creating an art work with other materials. Sometimes I will share my love of art history with you. Another time it will be about one contemporary artist. Just to keep you inspired we visit a museum. I will be your guide and I'll tell something about the place works have in the history of time. Get inspired by a work from a well-known artist and paint it following your own idea.
In the lessons I will help you form your ideas and in choosing which material to use and the technical aspects of painting. The course is for beginners as well as for more experienced people. At the end of each lesson we will discuss the work.
Take your brushes and paint with you, if you have them. If not, I can supply you. If you prefer canvas please bring your own. I have paper.
Course : ongoing weekly lessons
Price : 10 lessons card costs € 150. Price is incl. consumptions, excl. museum entrance.
Date : Every Saturday morning from 10:00-12:30 o'clock.
Address: SAKB building, Ouderkerkerlaan 15, 1185 AB Amstelveen
Trainer : Sylvia Waterloo
Are you interested? Please contact me by sending an e-mail message by entering a comment under Contact.